Autobiography
So far, I have claimed seven states as home. (California, Connecticut, Virginia, Utah, Florida, New York, Maryland) The cities and states I have lived in have been beautiful. But the people that I have met, learned from and loved in each state far supersede the physical places I have lived. My husband received advice on a job interview that we have carried in our hearts: Your job isn't the most important thing – Rather, it's the place your job takes you that is more important… each of us need to be surrounded by those that need to influence us; and conversely, need to be influenced by us.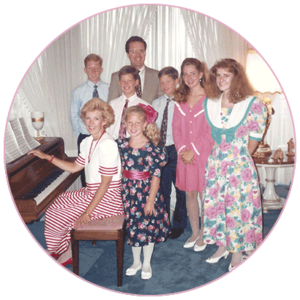 Many have influenced my life, growth and passions. My parents were first. They are both incredibly musical. As soon as my mom sat down at our living room piano, I would find myself close by her side to sing, learn and feel. Our family was a little singing Brady Bunch: three boys and three girls: "All of them had hair of gold, like their mother…the youngest one in curls." That's us. We sang as a family in church. We took performing group classes, we sang in school choirs, church choirs and eventually in school plays. The boys, though perhaps the most musically talented of us all, followed their athletic passions while the girls sang and danced our days away.
In elementary school I auditioned to be Suzy Snowflake in our Christmas play. But beautiful, long-haired Danielle got the lead instead of me. The director told me that I didn't get the role because I didn't seem like I wanted it that badly. Good lesson to learn. My parents raised each of us children with complete confidence that we could do anything in life that we wanted. I just had to learn what I really wanted. My first role on stage was in the chorus of Fiddler on the Roof. I was the most committed little chorus girl, singing while shaking my rug out of the window of our painted plywood set piece! I loved the story. I loved being part of the story. I loved singing the story. I wanted to sing more stories. I soon started to get lead roles in school and community productions, as "Cinderella" then "Fiona" in Brigadoon and "Nellie Forbush" in South Pacific. It seemed that I was a "shoo-in" as leading lady for the rest of my high school career.
Then I auditioned for our spring production of
The Mikado
and I was given the role of one of the three little maids
(from school are we)
. At first, not being cast as the lead felt like an insult, but in hindsight it was a grand blessing. My first inclination was to turn down the offer to be a silly maid with so little to sing, but my parents encouraged me otherwise and I ended up having a blast and growing a more humble heart and better understanding of all of the "roles" that it takes to tell a story on the stage.
When it came time to think about college, I dreamt of attending one of the great music conservatories. But instead of applying to nationally prestigious music programs, I had a strong personal prompting that the only school to which I should apply was Brigham Young University in Provo, Utah. I felt that if I was going to pursue theater, I needed to be in an environment where I could grow my talent and my testimony alongside others with similar standards and beliefs. I didn't know anything about BYU's theater program, but sent an audition video tape to the heads of the Music Dance Theater program and was accepted as one of 12 incoming freshman. I felt so confident walking onto campus my first day. Then that confidence quickly melted away. I was at a great school, with hugely talented students, and I was certainly not the leading lady anymore. I could hardly get a part in theater productions and did not get accepted to the elite campus performing group. I was crushed. Maybe I wasn't talented? Maybe I shouldn't pursue theater? But it was still what my heart wanted.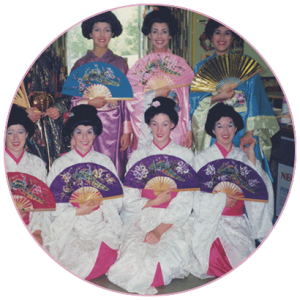 During my sophomore year at BYU, I auditioned for Disney World's live stage shows and fortunately the casting director liked me. He loved my look, my voice, my acting. I was the right girl on the right day for the right show. And I realized then that it is not a matter of who is the most talented, but who is the right fit at the right time. Theater is so subjective
(as are most things in life)
.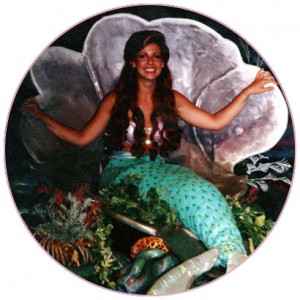 With my first paid job offer, I left college and moved to Orlando, Florida to perform as Ariel for a year at Disney World. Disney was magical in every way. I loved performing on stage as Ariel, and then as Cinderella, and even as an African chorus singer at a private premiere of Lion King II alongside a personal vocal idol, Liz Callaway.
Here is where the real magic of my life began. The first Sunday that I lived in Orlando, Florida, I did what I do every Sunday…I attended church. I joined a congregation of young single adults in the Orlando area. I sat in the back row of the chapel during the sacrament meeting. I noticed a guy sitting far to my left, and then I "noticed" him again and again. He was hot. And he looked so confident. And I was a boy crazy 19 year old who wanted all boys to ask me out and fall in love with me. But I digress. At the end of the meeting, I was talking with my gorgeous and talented roommates, and we found ourselves encircled by a group of guys. As we all talked, I noticed that the hot, confident guy from the back row had walked to the edge of the group and sat down, as if waiting patiently for the crowd to dissipate. I stuck my hand straight through the circle of boys and introduced myself to this coolly confident guy. He said his name was Josh. We chatted quickly and were swept away to different areas of the church for classes.
Well, Josh hunted down my phone number that week and asked me on our first date. He picked me up on Friday night in his near-death trap, rusted white truck that he called "The Falcon Express" (aptly named for the peeling black falcon painted on the side). He took me to lunch, then out on a jet ski on the Butler Chain of lakes. We talked. We laughed. We shared backgrounds. We shared thoughts. After he took me home, my sister called and asked what I did that day and I started crying. I cried for two reasons – first, it was a strong, spiritual moment for me as I knew without doubt that Josh was to be my husband. And second, I was petrified that I had just met my husband at the age of 19! He was not part of my plan yet. I had so much I wanted to do and see and become before I married. And yet, I knew I would not and could not ask him to come back in a few years time…in that moment I wanted nothing more than to be with him every day. So, that's what we did. We spent every glorious summer day together: courting, laughing, learning and growing together. We were engaged 6 months after our first date, and married 4 months later on March 4, 1999 in the Salt Lake City, Utah LDS Temple. I was told that it was cold that day, but I didn't notice. I was his and he was mine – for eternity.


As newlyweds, we moved from Florida to Utah for both of us to finish our undergraduate degrees. Josh graduated and lined up his first job as a consultant for Arthur Andersen. While he prepared for his new job, I continued with my third year of classes and also heard of an open audition for
Les Misérables
to be held in Salt Lake City.
Les Misérables
was the first Broadway show that I had seen in NYC at the age of 13. I wept during the curtain call along side the other teary-eyed audience members. The music and the story had permeated into my young soul, and I also had a deep peaceful feeling that whispered: "
I am going to do that some day
." Thus, when I heard about an open audition so close, I prepared and I went. After my initial audition, the directors asked me to return the following day for a call back audition for the role of "Cosette." Five weeks later, I received a phone call inviting me to join the ensemble cast of
Les Misérables
on Broadway in New York City! My young husband, who had been working in his new job for four days, asked his boss for advice on what to do. Without hesitation, Josh was transferred to the New York City office so we could be together. We packed our few newlywed belongings and moved from Provo, Utah to NYC two weeks later!
Josh's career and education flourished in NYC. He received his MBA from NYU and advanced in a stimulating finance career (well, stimulating for him, I guess!). After one year in the ensemble cast of Les Mis, I was offered the lead role of "Cosette" on Broadway. I played the role for 2 ½ more years until the show closed in 2003. I could write a whole book on my experience on Broadway, but perhaps it is best to somewhat concisely say that I loved every single moment on stage, singing the story of Jean Valjean's life. I shared all of me on stage each night, knowing with all surety that I would hear the audience weep as their hearts were forever touched by the music and the messages. Messages of justice vs. mercy, Christ-like sacrifice, life after death, loss and grief, young love and unparalleled courage. I am honored to have been part of the truth-sharing production of Les Misérables each night for those 3 ½ years.
I took one brief hiatus from the Broadway Company when I was asked to join a select touring cast to perform in Shanghai, China. The Chinese government invited
Les Mis
to be the first Broadway show to be performed in mainland, communist China.
(Very interesting choice when you consider the theme of Les Mis and the history of China and student revolutions)
. I performed my role as "Cosette" with Colm Wilkinson reprising his role as "Jean Valjean," my father.
The friendships I made on and off stage were lasting and refining. The theater is a magnet for "interesting characters." And amongst all of the diversity, I was yet another diverse piece of the puzzle because I was a young, married LDS girl whose faith, morals and beliefs stood in opposition to nearly all that the life upon the "wicked stage" is built. Some cast or crew members in the theater didn't particularly care to be friends with me because of my beliefs, while others embraced my differences and loved me just as I loved (and love) them. When that original company of Les Mis which had started in 1987 closed it's curtains in 2003, I was ready and excited to "retire" and leave the stage for my next role of mother.


In all truth, my husband and I had hoped to start our little family even while I was performing as "Cosette." Had I become pregnant while performing, I would have gladly left the show to have a baby. When the show closed, my heart had already been yearning for the role of mother, a role that had unfortunately eluded me. Little did we know that it would take many more years
(5 in total)
for our first child to come. We had our first daughter in 2006, our son in 2008, another daughter in 2009 and our last daughter in 2013. As they say, when it
finally
rains, it pours
(babies in our case)
. Even now with my arms overflowing with children, I can clearly remember the years that my arms were empty and my heart ached to have a baby. There is so much more to say about those years as we struggled through the most trying experiences of loss, but I will simply say here that those years were real and difficult and deeply painful.
(read more here)
After having our third child in three and half years, I began having strong feelings that I should create something other than a baby the next year…an album! (Since I had so much time on my hands, you know? Yah, right!) I connected with a wonderful producer, Tyler Castleton, and we created a meaningful and powerful album titled "Sandra Turley: On Broadway" that was released in March 2012 through Shadow Mountain Records, the music label of Deseret Book. From there I was asked to be a presenter with Deseret Book's popular Time Out for Women and Time Out for Girls events. The most fulfilling personal, professional and spiritual performing I have ever done has been as a singer and speaker for these spectacular events.
One album led to a second album and thus was born my first collaboration with Kurt Bestor, titled "
Inside My Soul
" that released in July 2014. The first album, "
On Broadway
" welcomes people into my Broadway world and the characters and stories that give us strength. "
Inside My Soul
" welcomes people into the more personal feelings of my soul, which I hope helps listeners explore the deepest parts of their own souls. I love recording albums. I never had any grand ambition or vision to record, but have truly loved the process of creating and recording albums.
It continues to be a challenge to compartmentalize recording and performing as a mother of four young children. If I were to put a number to it, however, I would say that 90% of my time is devoted to the role of wife and mother and just 10% is given to creating, preparing and performing. Even though this short memoir does not support that percentage breakdown and would suggest the opposite emphasis on my life, the walls of my home know that I am a wife, mother and homemaker first. Even from my young days on Broadway, I promised my husband that if anything on stage were to get in the way of our relationship, I would simply quit. Nothing else, no stage experience or fame, would ever or will ever be worth sacrificing my family. My family is what I want more than anything else.


The next paragraphs of this mini-memoir will continue to write themselves each day as I live and grow and learn along side my amazing husband and our fascinating children. We are all in this together. Influencing each other. Learning what our hearts really want by following promptings and pursuing our talents in faith and with clear perspective of what is most important, not only now, but eternally.